Patitapabana is a combination of two words, 'Patita' and 'Pabana'. In local Odia language 'Patita' means 'Sinner' and 'Pabana' means 'purifier', so 'Patitapabana' combinely means 'One who can even purify the sinner'.
The image of Lord Jagannath mounted in Gumuta Griha at the main entrance of the temple is worshipped as 'Patitapaban Jagannath'. As devotees enter the Jagannath Temple through the eastern gate (known as Simha dwara in local language) they will see the image of the Patitapaban on the right side wall on an elevated platform. It is said that all those who have no right to enter the temple for inadvertent religious reasons, get the privilege of the Darshan of Lord Jagannath in the form of Patitapabana. The image of Patitapabana is visible from outside the temple gate for the worship of all. Here the image of Patitapabana has no body, only the face of Lord Jagannath is manifested.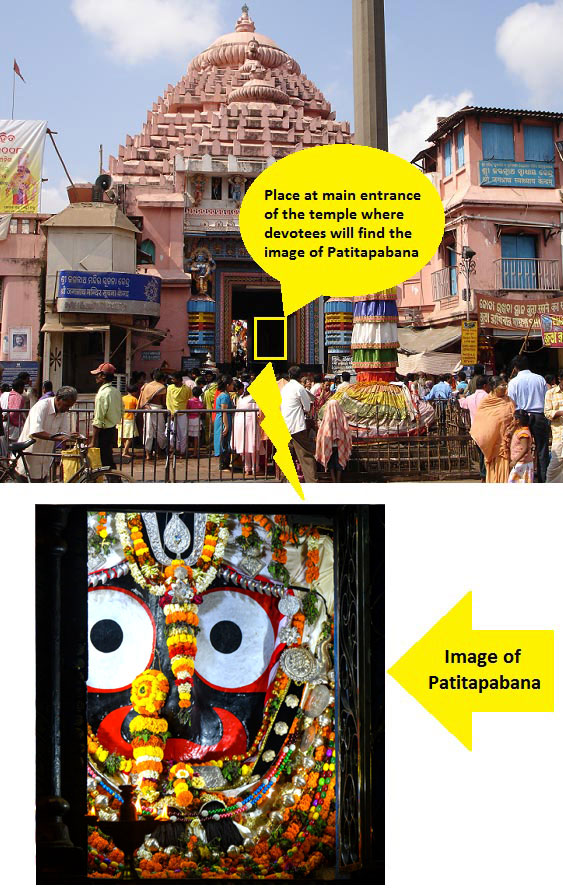 There is an interesting story behind the installation of 'Patitapabana' at the main entrance of the Jagannath Temple. As per history, to save the Jagannath Temple from destructions by the Muslim rulers, the Khurda and Puri King of that time Gajapati Ramachandra Dev-II (1732 to 1743 AD) married a Muslim girl under pressure of inadvertent conditions. By marrying a Muslim girl, the king had broken his religion and became a sinner. As per the temple rule, the King had inherent institutional right to worship Lord Jagannath as the Gajapati King. At that time the main concern of the temple priests was how to maintain this age old tradition. But understanding the king's devoted faithfulness to Lord Jagannath, the Priests made an alternative arrangement to solve the problem and installed the image of Lord Jagannath on the right side wall of the main entrance of the temple for Darshan from Grand road by the King and also for all other Patitas who are not allowed to enter into the temple. Since that day Lord Jagannath is worshipped as 'Patitapabana' at this place.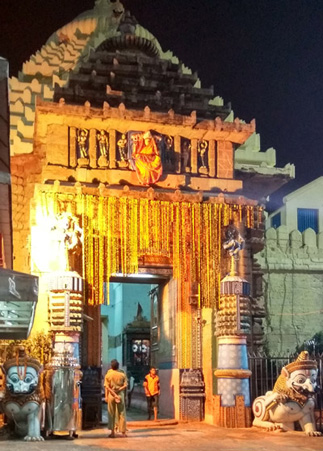 Night view of Lord Patitapabana
The flag tied to the Neelachakra (Blue wheel at top of the Temple) of Jagannath Temple is also known as Patitapabana Bana (in local Odia language 'Flag' means 'Bana') and it is identical with Lord Jagannath. Devotees who are not allowed to enter into the temple can view the flag from outside to get benefit of seeing the Lord. The Patitapabana deity together with the main Temple, Patitapabana flag and Nilachakra are all equally empowered to remove the sins from heart of the sinner.