Raghurajpur, a small village in Puri district, occupies a unique place in the cultural map of India. It is famous for its master Pattachitra painters and as the birthplace of legendary Odissi dancer Kelucharan Mohapatra . The village is inhabited by artisans producing sheer poetry on pieces of treated cloth, dried palm leaf or paper. Situated on the southern bank of river Bhargavi and surrounded by coconut, palm, mango, jackfruit groves and other tropical trees, Raghurajpur has an idyllic setting. A number of betel vines dot the nearby paddy fields. The village runs from east to west with houses arranged in two neat rows, facing each other. The outer walls of most of the houses are wonderfully decorated with mural paintings of mythological scenes from the Ramayan and the Mahabharat. At the centre, runs a line of small temples and the lone Bhagabat Tungi, the community meeting place of the villagers. The presiding deity of this village is Goddess Bhuasuni and a temple is dedicated to her. Apart from this temple other temples are dedicated to Gods like Radha Mohan, Gopinath, Raghunath, Laxminarayan and Gouranga.
Entrance of the Village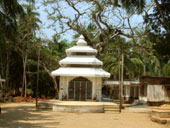 A Temple at Raghurajpur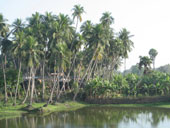 View of Coconut Trees
This coconut-palm shaded village is quite different from other villages of the State. It has its own identity. What is unusual is the number of outsiders including foreigners visiting the village round the year. These people don't come here to see a typical Odishan village from close quarters but to see and enjoy the rich traditions of Odishan arts and crafts at one place. The primary art of this village is Pattachitra, but apart from this, the village has a community of artisans, who produce different varieties of handicrafts items such as palm leaf engravings, stone carvings, papier mache toys and masks, wood carvings, wooden toys, cowdung toys and tusser paintings. Perhaps nowhere else in India one finds such a congregation of so many arts at one place. This is also the only village in India, where each family is engaged in one craft or another. Some of them are winners of National Awards. One comes across the best tradition of Odishan paintings and some of the finest pieces of work in this village. "AT Raghurajpur, every villager is an artist and every house is an artist's studio." Here, art is not just a profession or passion but it is a way of life.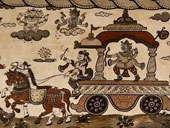 Painting on House wall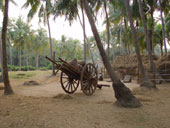 View of the Village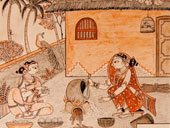 Painting on House wall
Indian National Trust for Art and Cultural Heritage (INTACH) selected this village to revive the ancient wall paintings of Odisha and to give this village its rightful place both in the cultural and tourist maps of the country. It was declared as a heritage village by INTACH in 2000 and became a major rural tourist destination of Odisha. It attracts thousands of domestic and foreign tourists. It is the first village to be developed as part of the rural tourism promotion project. Every year Raghurajpur hosts a spring festival in the month of February/March named as 'Basant Utsav - Parampara'. It was first organized in 1993 by State Tourism Department and Astern Zonal Cultural Centre, Kolkata. Huge crowd visits this village during this festival.
To reach Raghurajpur one has to get down at Chandanpur bus stop, which is about 10 km from Puri and 50 km from Bhubaneswar on National Highway No.203 connecting Puri and Bhubaneswar, two important tourist destinations of the country. From Chandanpur one has to take a cycle-rickshaw or walk on a 1.3 km scenic road to reach this village. One may also hire a taxi either from Puri or from Bhubaneswar to reach the village.