The famous Konark temple stands on the sand of Bay of Bengal.This wonderful grand structure with marvellous sculpture and architecture splendour of the ancient Kalinga accounting for the skill of the people living in that era.It was also popular in the name of 'Black Pagoda' with the ancient maritime people.For those marine voyagers,the temple proves its credibility for years together in locating their choosen destiny.Legend goes in several directions telling the glory and tale behind the construction of this mighty structure wholly dedicated to the Sun God in the form a chariot drawn by seven horses.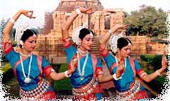 To glorify the magnanimity of the temple of konark and to make it more popular among the culture and tour loving people across the world,the Government in the center and the state,tries to draw a festival in the line of Puri beach festival, called as Konark Dance Festival.
Every year in the month of February Konark festival pull the attention of a large crowd-domestic as well as foreign.
Performed on a platform in the backdrop of the majestic Konark temple with special illumination add to the colour and picture of the ever living structure.The pits of the platform opened to the sky resembling some sorts of stage performance in the famous Shakesperean era.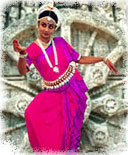 The festival lasts for some days,during which renowned artists from every corner of the country diaplay their classical dancing skill,worth appreciating.To name a few,famous dancers of yesteryears in Sanjukta Panigrahi,Meenakshee Seshadri etc. have showed their classical dances epitomising the rich devotion resulting in elevating even the audiance to a level of spiritual esctasy.
Further the beats of Phakawaj,the tune of flute and the rythmic sounds of ghungroos combines to transend one into a fantasy.